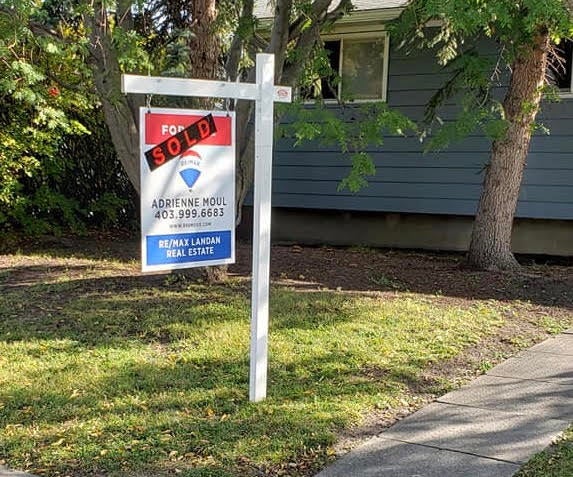 If Realtors have celebrity Rockstars then this lady deserves that title. Her knowledge, expertise and networking skills shine, she knows her stuff, she is a true industry professional. Her compassion, care, understanding and concern is unsurpassed. She does her homework, does the digging and she gets results.

This is the 2nd time she has listed and sold a property for us that within 24 hours of the listing going live, sells. Yep, Rockstar status! She guided us along the way with the right tips. She did everything she could to get us the best bang for our buck and we were not disappointed.

Monday we finished all that we needed to do to have the listing ready for Tuesday morning. The listing went live Tuesday Morning and by 6:30pm we had signed off and the property was SOLD. Over asking price, with competing bids, in Calgary, a low market!!!!

Adrienne, once again you have blown us away with what you can do as a Realtor extraordinaire.

Calgary, if you need a Realtor, get ahold of her, even if you aren't selling or if you're thinking of buying or selling, write this name down, keep it filed away for future reference. If you want results you will want her as your agent.


Reta and Colin G
---
I just wanted to take the the time to let Re max know of my experience in the selling process with Adrienne. As first time sellers, this was the most smooth and seamless experience I think a couple could have. We spent hours going through all the paperwork with Adrienne, at no time did we ever feel as though we couldn't understand the material in discussion. She took the time to ensure we could ask our questions and broke the material down so again we could understand (as we don't think like a Realtor) right down to the terminology. We both loved how at no time throughout the process we ever felt rushed and the time was taken to make us comforatable. She made us feel like we were her only clients at all times (as I know we weren't). These feelings I believe are all fundamental as a client and I know I can recommend her to anyone. Her detail in preparing documents also was exceptional, I never felt as though it was done correctly. I know that this transaction is done properly and we feel at ease leaving her in control.
Adrienne has a very approachable and outgoing personality which made the process that much more enjoyable, it never felt as though calling her her was a problem.
We have dealt with other Realtors over the past 4 years and I can honestly say not one of those experiences are even comparable. Whether or not the property had sold I found a Realtor I will use in future transactions.
I just wanted to let ReMax know the value they have in Adrienne as she truly is exceptional in her field and takes extreme pride in her career.
~ Wesley & Ashlie
---
I just wanted to take the time to fully thank you for all your hard work, patience, sense of humour, your passion, commitment and dedication towards helping me find not one but two houses in under a year. I still always remember living in Sait residence and our first phone conversation, it was so pleasant and easy to talk to you, what I liked about you was the fact you had all the knowledge and skills in place to make everything go as smooth as possible, its true what they say timing is everything and with that I was able to purchase my first property.
I can see the passion and the love you have for your job and you always go the extra mile, you treated me more like a friend than a client and at times it didn't feel like I was buying a house, you always gave me answers to all my questions and even if I repeated myself you would always still give me the answer.
You also helped so much to introduce me others in the industry who helped make the purchase go as smoothly as possible, I also liked the fact that you would stay on top of everything and never let anything slip considering how busy you always are, one of the most interesting facts that I liked about you was that even after the sale had gone through you would still keep in contact and rush round in your own time if I needed something even just advice like the fridge door not closing and you rushing round and it being fixed within a few minutes. You are truly one of a kind realtor out there and Remax are very lucky to have you…
~ Manj
---
I want to thank you very much for all your hard work you did with the sale of our house in Erin Woods. Your professionalism, outstanding service and great personality made it a pleasure working with you!
This was the first house we have ever sold and you made it a fun and exiting experience! Jaret and I will definitely recommend you to others! Thank you and we wish you all the best in the future!
~ Nicole and Jaret
---
Adrienne is the most competent and professional Realtor that I have ever dealt with. After having previous issues with other Realtors (including family) I had lost faith in the competency and value of Realtors, then I was thankfully introduced to Adrienne.
She walked me through the entire Real Estate process including all contract terms and conditions with lawyer like savviness. I have used Adrienne for 4 different Real Estate transactions including buying and selling and I know that she always had my best interest at heart.
I have referred Adrienne several times including to my own parents and on every occasion I have been thanked for making the introduction to Adrienne. If you are looking for a Realtor who is articulate, contract savvy, a strong negotiator, a marketer, caring and with top notch customer service the answer is Adrienne Moul.
~ Brett
---
We really appreciate all of your help in going through this process with us and the fact that everything went pretty smooth. It was a lot more stressful than I had imagined but you were such a big help and calming influence.
We are so happy now that it is over and we now have the home of our dreams!
~ Steve & Mandy
---
As a first time homebuyer, I was put at ease with Adrienne's expertise and knowledge of the real estate market in Calgary.
I learned quickly that if there is something I do not like about a house I need to leave and continue with my search!
This is especially true if something screams "Bad Resale Value". After looking at more than 40 houses I found the perfect home for me. Can't wait to move in. Thanks Adrienne for your support!"
~ Kerry G (Checking out her soon to be completed kitchen)
---
I just wanted to say thank you again for all that you and your team have done. When I first spoke to you on the phone, I was very nervous (not sure why) but you had a way of making me feel at ease.
Understanding what I was trying to say and taking the time to listen, was a big deal to me. Sending e-mails of properties, setting up showings and guiding a rookie investor through the process has been really appreciated.
~ Gordon J.
---
I really appreciate your input and of course I would come to you for advice – you are my "go to go getter" person.
You did a great job on selling both my properties and I also consider you my friend.
~ Kathy B.